Rebel chefs rejoice: Kitchens coast-to-coast just got a lot HOTTER!
We are pleased to announce that Future Foods Enterprises, LLC is now utilizing Dot Foods as a national redistributor for our complete line of PAOW! plant-forward proteins. Effective May 17, 2021, our current less than truckload and potential customers will have the option of sourcing our complete product line through Dot's national system.
With Dot Foods, it's now easier than ever for operators and food distributors nationwide to add the versatility of PAOW! to their menus.
What this strategic partnership brings to you:
Dot Foods offers weekly deliveries in every market in the continental U.S. with a 2-4 day lead time, enabling you to respond faster to your customers' needs while at the same time increasing your inventory turns.
Dot Foods offers you the ability to purchase our products with no minimum. You can now order exactly what you need vs. having to meet our minimum and weight requirements.
We integrate the invoice information into our system so that all sales support continues just as it did when you were purchasing direct – no change.
Increase the availability of our products with no minimums and shorter lead times.
All marketing support from us to the distributor will continue on products purchased through Dot precisely as it does when distributors buy directly. This includes promotions and marketing growth programs!
Easy ordering through the Dot:
Contact your Distributor.
PAOW! is stocked at DOT Foods.
Provide your distributor with the manufacturing item number and/or the DOT item number.
Manufacturer's item numbers are listed on our Products page or click here for a PAOW! catalog.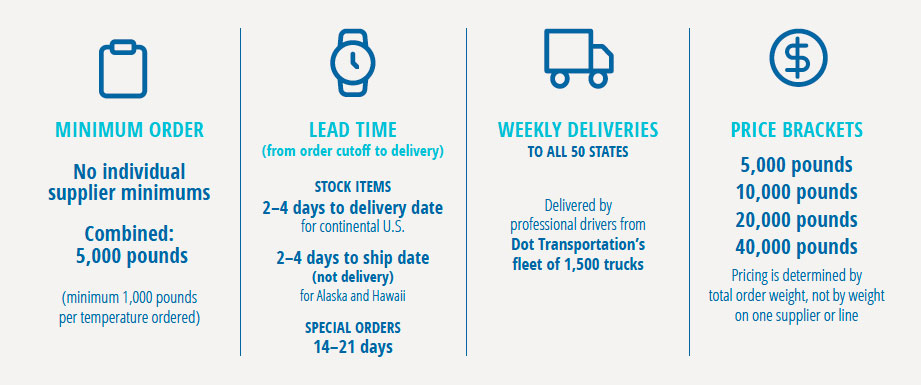 As many of you already know, Dot Foods is a national redistribution company that services distributors in all food channels, including foodservice, supermarket, convenience, drug, and all alternate channels.
Operator & Retailer Benefits:
Improved LTO Execution
Increased Compliance
Increased Sourcing
Improved Service
In addition to this being great news to our customers, it is also great news to us as an organization. Dot sells to approximately 4,100 distributors in the food industry that can now source our product with a one-case minimum and two-day lead-time through Dot. This capability eliminates the majority of the operational challenges we encounter when trying to bring on new customers and place new items. We look forward to "Rocking the Food" with you!
Follow us to be the first to know about the next big launches in plant-based. For People and Our World.
Our fearless chefs are in the kitchen, creating the next culinary-cool innovation for you and your customers.
Facebook
Share with our community and join the PAOW! taste revolution.
Instagram
Follow us for foodspiration, foodie art and where to find the coolest restaurants.
Twitter
Foodie culture collides with plant-based menus in 144 characters.
LinkedIn
Are you in the plant-based biz? Let's connect! (Suit and tie not required, discouraged actually.)
Pinterest
Follow us for meatless takes on familiar favorites, and wherever our imagination takes us.